A New Body Lifestyle (A.N.B.L.)
A New Body Lifestyle presents "A Whealth of Health" in cutting edge research on holistic health. Our motto: "The Doctor of the future will prescribe no drugs but will interest his patients in the care and nutrition of the human frame and in the cause and prevention of dis-ease." - Thomas Edison "ALL HEALTH CARE IS SELF-CARE!" "To Heal is to make Happy" - A Course in Miracles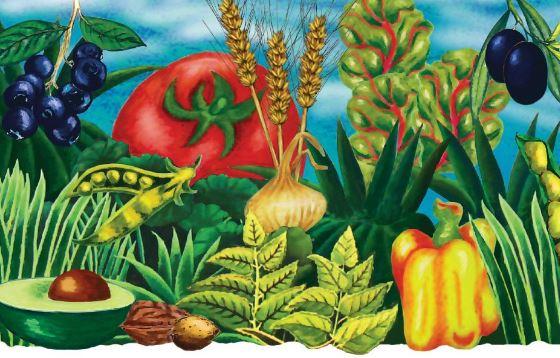 A Garden Variety
"A NEW BODY LIFESTYLE HERB INFORMATION SHEET"
Herbs are the highest quality food known to man containing vitamins, minerals, and trace elements along with melanin in natural balance, rhythm and harmony by the Creator. (Click here to read the full story).
A Whealth of Health: News & Views:
The Great American Death Ceremony
The death ceremony began as crude ritual, back in the days of witchcraft. In recent years, it has developed into a science. It usually takes 10 to 15 years; however, modern scientific advancements are shortening this period. It starts with one simple aspirin... (Full Text of the Article) .
Disclaimer:
The information on this website is presented for educational purposes only. It is not intended as a substitute for the diagnosis, treatment and advice of a qualified licensed professional. Throughout this website, statements are made pertaining to the properties and/or functions of nutritional products. These statements have not been evaluated by the Food and Drug Administration and these materials and products are not intended to diagnose, treat, cure or prevent any disease.
Furthermore, this information is based on the authors' years of extensive research and experiences with clients. However, this information is not intended for use as medical industry advice, diagnosis, prescription or treatment for any physical, mental or spiritual ailments. Anyone seeking medical advice should personally meet with someone associated with that industry, otherwise, consult one's Wholistic Health Professional. It is advised that s(he) remain under this person's supervision throughout any major shift in their lifestyle and behavioral modifications.
"A NEW BODY LIFESTYLE" adds YEARS to Your LIFE & LIFE to YOUR YEARS!" ©
"Health Care Is Self Care ©" "To Heal Is To Make Happy ©"
"Perfect Health is YOUR BIRTHRIGHT – CLAIM IT! ©"
COPYRIGHT NOTICE
This website and its content is the copyright of The Afrikan Center of Well Being, Inc. - © A.C.W.B., Inc. All rights reserved.
Any redistribution or reproduction of part or all of the contents in any form is prohibited other than the following:
You may print or download to a local hard disk extracts for your personal and non-commercial use only.

You may copy the content to individual third parties for their personal use, but only if you acknowledge the website, www.acwbinc.org as the source of the material.
You may not, except with our express written permission, distribute or commercially exploit the content. Nor may you transmit it or store it in any other website or other form of electronic retrieval system.
*The products and statements made on this website have not been evaluated by the Food and Drug Administration (FDA). 
The products listed and statements on this website is not intended to diagnose, treat, cure or prevent any disease. For medical conditions consult your physician.
Web Hosting powered by Network Solutions®